Benaroya Hall Information
You'll find here up-to-date information about Seattle's Benaroya Hall, so you'll get the best entertainment experience on your visit.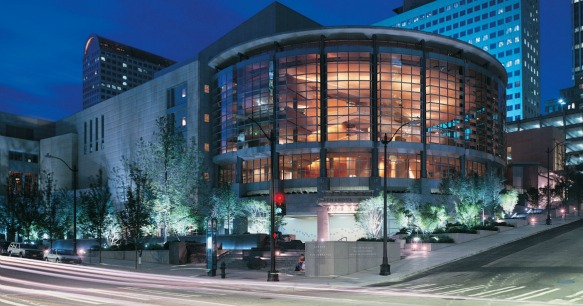 About Benaroya Hall
Benaroya Hall was designed and constructed with concerts as its primary focus. By the 1990s, Seattle was struggling for concert space for all its cultural events, and the Seattle Symphony was vying with the city's ballet and opera organizations to get a slot in the Seattle Opera House. When this new center was opened in 1998, Seattle Symphony got themselves a permanent home, where they perform in a purpose-built auditorium. A smaller recital hall was included in the project design, for chamber orchestra performances and similar more intimate events.
As well as the two magnificent concert auditoriums, Benaroya Hall offers three other musical or reception venues of various sizes, all built together in one prime, downtown location. The range of event spaces greatly increases the flexibility of offerings at this venue, whether they be musical or otherwise.
Benaroya Hall History
Benaroya Hall opened in September 1998, after an ambitious fundraising campaign that raised $159 million from the private sector. This went into the construction, endowment, and financing of the new arts project, and represented the largest amount ever raised in the State of Washington by an arts organization. Up until this time, Seattle had been suffering from a lack of performance venues, despite being home to three major artistic organizations. Seattle was justly known for its varied arts scene, but the opera company, ballet, and major symphony all had to share the same facility, allowing almost no scheduling flexibility.
Jack Benaroya, after whom the Hall is named, was a noted philanthropist. He provided the first and largest donation for the project's construction, of $15.8 million.
The award-winning design came from local Seattle architects, and incorporated the latest technology in noise insulation, which also doubled as extra protection against earthquakes. Right in the middle of the Seattle transit system, Benaroya Hall is situated directly over the rail network's Great Northern Tunnel and next to the Downtown Seattle Transit Tunnel. You can exit from here directly into the concert hall building, as there's a station incorporated into the construction.
Sound system
Benaroya Hall was designed in a traditional shape, and constructed to highlight massive surfaces of wood and plaster. These surfaces were carefully styled to diffuse sound effectively and provide the whole auditorium with excellent acoustics. The wood paneling is acoustically customized to resonate with different sound frequencies. The whole hall is soundproofed by building it as a double-layered box, separated by and supported on rubber pads. This soundproofing construction also provides greater protection against earthquakes.
What Makes Benaroya Hall Special?
Everything about Benaroya Hall is special, from its architectural design to its extraordinary acoustics. The concert hall has stepped balconies on three levels, as well as an intentionally raked orchestra level that allows optimal sight lines for all the audience. In 2000, a huge concert organ with 4,490 pipes was installed at the rear of the stage.
Benaroya Hall was designed to fill an urgent need for community concert facilities, but also provides several excellent event spaces for other activities. You can book these for weddings and receptions, banquets or corporate events. In the Samuel & Althea Stroum Grand Lobby you'll have a spectacular city backdrop through the vast bow windows. This makes a prime event location for happenings in downtown Seattle.
As well as providing all ADA required facilities, Benaroya Hall is barrier-free and offers accessible seats on every level, with elevators for the upper levels. It also provides advanced hearing assistance using radio frequency headphones or induction loops. Interpretive assistance is also available, but you must contact the venue directly to arrange this, at least two weeks prior to the event. Full mobility assistance is offered, including wheelchairs for transferring to seats and ushers to help limited mobility patrons.
Who owns Benaroya Hall?
Benaroya Hall is owned by BH Music Center.