Benaroya Hall - S. Mark Taper Foundation Auditorium | Seattle, Washington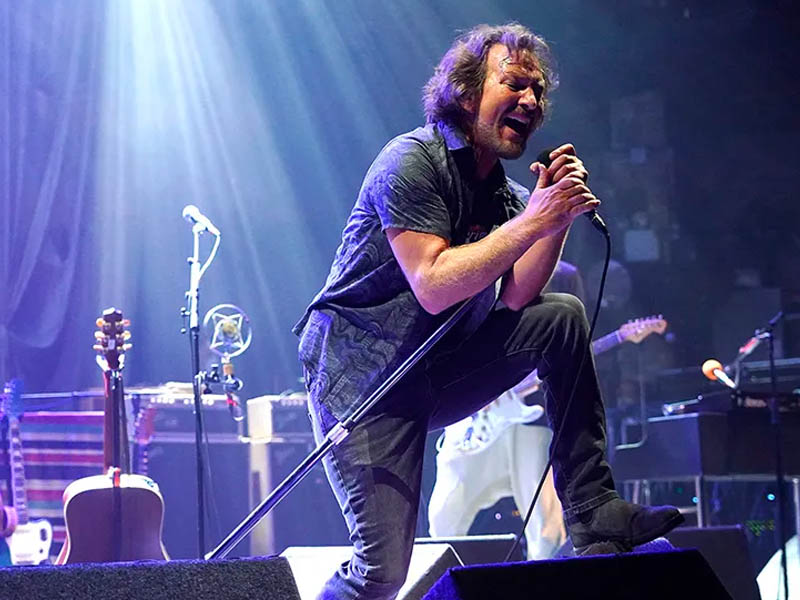 Following an ultra-rare appearance last spring and summer, the legendary Eddie Vedder, known for being the voice and face of iconic alternative powerhouse Pearl Jam, is setting out on a once-in-a-lifetime gig! If you're into great nostalgic trips, this one is sure to make your year! Vedder, performing his career-spanning solo efforts, will be going on a mini trek comprising a few lucky cities! Lucky for fans in Seattle, Eddie Vedder is scheduled to stop by the Benaroya Hall! Fans can expect Vedder's incredible high-energy sets as he belts out his solo staples, "Society," "Hard Sun," "Long Way," "Brother the Cloud," and more on Monday 23rd October 2023! The Rock and Roll Hall of Famer will be showcasing a plethora of music styles, such as grunge, rock, alternative, and folk! If you're keen on seeing one of the greatest rock singers alive perform his outstanding solo music, you better hurry and secure your tickets now!
The highly-regarded singer-songwriter has been known for writing songs for soundtracks, compilations, and films. But he has since released several solo studio efforts. Last year, Vedder embarked on his highly-acclaimed Earthlings Tour, followed by a slew of headlining sets in big music festivals. Lucky for fans, he's also set to deliver a few select shows this fall. If you're looking to see some Pearl Jam hits, plus several of Vedder's staples, his highly-anticipated appearance at the Benaroya Hall on Monday, 23rd October 2023, is the place to be!
Although he won't be with the members of his legendary band, Vedder knows precisely how to put on an outstanding show. His past performances resonated well with audiences, and his fans have been demanding more. After all, when the frontman of Pearl Jam performs a wide range of musical styles and covers of Tom Petty, Temple of the Dog, U2, The Beatles, Neil Young, and more, you'll also absolutely go bonkers! It's the show Vedder won't do during a Pearl Jam concert, so this is your chance to hear his sensational vocals sing iconic covers!
The legendary singer Eddie Vedder has made his name as the frontman of the massive rock band Pearl Jam. Emerging in 1988, he and his band have been regarded as one of the pioneers of alternative and grunge music. Pearl Jam has been called the most influential and most popular American rock band of the '90s. Vedder and his band have sold over 85 million records worldwide and earned several multi-platinum certifications. In 2017, Vedder was inducted into the Rock and Roll Hall of Fame, along with the rest of Pearl Jam.
In 2007, Vedder released his debut album as a soundtrack for the film Into the Wild. The album peaked at number 11 on the Billboard 200 and performed phenomenally on international charts. Vedder's exemplary work on the album earned him numerous accolades, including a Golden Globe Award for the track "Guaranteed." Meanwhile, the song also received a Grammy nomination for Best Song Written for a Motion Picture. The following year, the single "Rise" received a Grammy nod for Best Rock Vocal Performance, Solo.
After an incredible debut, Vedder released three more studio albums, including his latest effort, Earthling. The album made waves on the charts, even topping Billboard's Top Rock Albums and peaking at number 2 on the Top Alternative Albums chart. Following the album's release, Vedder embarked on highly select shows and headlined large festivals across North America.
This is your chance to catch Eddie Vedder as he performs a solo gig at the Benaroya Hall on Monday, 23rd October 2023! Tickets are now up for grabs!